Enquiries Welcome
We have kittens! Born 1st week in May 2019
Colours include Red Self, Blue, Cream & White Bicolour, Tortie
Harlequin's and Scramble's kittens are now six weeks old and below are some recent pictures.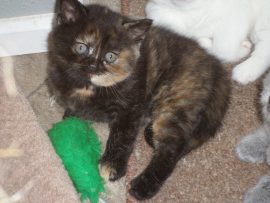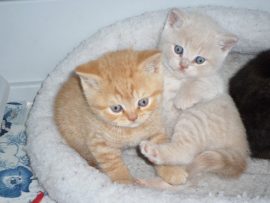 15th June 2019
We have available  1 Blue girl, 1 Tortie girl, 1 Red boy, 1 Cream&White Bicolour boy.
Stop Press!
Our Red & White Bicolour queen,  GrCh Moormist Cordelia,  is expecting kittens any day now.   She is mated to a Blue boy and can have kittens of various colours.
17/06/2019
Cornelia has two kittens – both boys.   One is a Red & White Bicolour and the other is a Red Self.
Mother and babies doing well.  3-days old.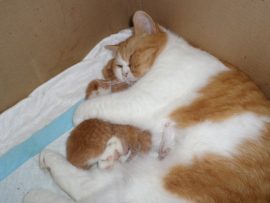 Latest news  7th July 2019
We unexpectantly have available a Blue girl and a Red boy.   They were to go together and the  family who had reserved them are unable to have them after all.   They are now nine weeks old and will be ready to go the last week in July.  Latest pictures below: