Enquiries Welcome
We have kittens! Born 20th December 2019
Poppy, our British Blue queen, has 4 kittens.   She has two males and two females.   All doing well and she is a wonderful mother.
19th Feb 2020  Poppy's kittens are almost 9 weeks old and will be having their first vaccination in a couple of days.   Here is a photo of them.
We shall be mating our other girls in the early Spring.
Enquiries welcome but watch the website for news.
————————————————————————————————————————————————-
Below are pictures of some of the kittens we had in 2019.  Colours included Red Self, Blue, Cream & White Bicolour, Tortie
Harlequin's and Scramble's kittens at six weeks old and below are some later pictures.
They have all settled happily in their 'forever' homes except for the Tortie & White girl, Moormist Melange, who is staying with me.   I am hoping to show her at several shows in 2020.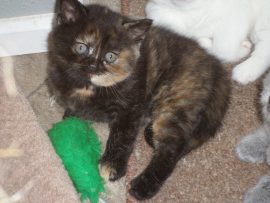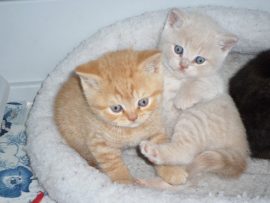 Our Red & White Bicolour queen,  GrCh Moormist Cordelia, had her first litter in 2019.
Cornelia had two kittens – both boys.   One is a Red & White Bicolour and the other is a Red Self.
Mother and babies doing well.  Below are pics taken when they were 3-days old.