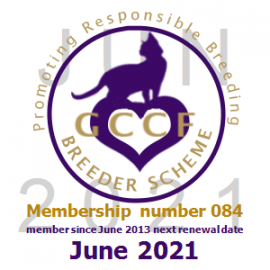 I am a breeder of British Shorthairs located in the picturesque county of Devon, England. I have been breeding and showing British Shorthairs for the past 30 years. I breed for quality not quantity, with the aim of  producing beautiful kittens with loving temperaments .
Moormist British Shorthairs is a GCCF (Governing Council of the Cat Fancy) registered prefix.    I am a member of the GCCF Breeders Scheme and follow their Code of Conduct.
I am now living in Highweek, Newton Abbot.
Thank you for taking the time to visit my website.   The year,2020, has started for us with a litter of British Blues born just  before Christmas.   The kittens from the litter all went to their permanent homes just before the Lockdown.  Since then our Red & White Bicolour queen, Gr Ch Moormist Cornelia, has had two kittens – see the Nursery .
We are expecting more kittens in August 2020
***HARLEQUIN HAS FIVE KITTENS BORN 14/08/2020***